An Interview with Elaine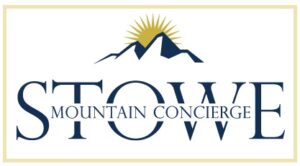 I asked Elaine Flynn, founder and president of Stowe Mountain Concierge, what sort of services she offers home buyers and sellers?
Elaine – For prospective home buyers, I can arrange accommodations and logistics when folks come to town to look at properties, and can help answer many questions. Once they actually own a home, I can and do help homeowners furnish their homes, prepare them for visits and/or rental clients. It is fairly common for me to purchase linens, outfit kitchens and baths, and provide whatever other amenities a home needs to be in "move-in" condition. I have had a couple or clients who have picked out their own furniture, but had me on site for delivery, furniture placement and decorating.
Q – How do you set up partnerships with local establishments in order to offer your services?
Elaine – To date, I have tailored my local partnerships based upon the needs and requests of my clients. I focus on finding the local business that I feel will provide the best service and price. The array of local businesses that I work with includes resorts, stores, restaurants and Real Estate agents, as well as individual vendors such as personal chefs, cleaners and babysitters. My former position as a concierge at the Stowe Mountain Club gave me a head start in being able to quickly identify suitable partners.
Q – How do you handle short-notice requests? Do you have an example?
Elaine – This past winter holiday, I had a client who asked for a personal chef for 5 nights, with all of 2 days' notice. I needed to quickly confirm chef availability, as well as confirming that the chef himself had adequate time to create a menu and acquire the necessary ingredients. We were able to respond within a couple of hours, and my clients were very happy with their meals, which included a full Christmas dinner.
Q – Do you have an example of an assignment that was especially challenging?
Elaine – A client called me last September to set up their entire Christmas vacation. It included finding accommodations for a large party, setting up ski lessons, Adventure Center for the children, ski rentals and housekeeping. The family flew into Miami only to discover that their flights to New York were canceled due to inclement weather. My client called me from Miami airport. We worked together to quickly rearrange their itinerary. What stood out for me, and for my client, was how difficult it would have been for them to respond to the travel delays if they had made all of their arrangements themselves. This really demonstrated the value of Stowe Mountain Concierge.
Q – Who are the people who most rely on your services? What services are most requested?
Elaine –  Most of my out-of-town clients are either second home owners or folks coming to Stowe on vacation. For second home owners, my services run the gamut from full property management services, cleaning and interior maintenance, all the way to situational-specific services such as opening up the property to accommodate a furniture delivery.
For Stowe-bound vacationers, it is common for me to plan full itinerary, transportation, restaurant and hotel reservations, even stock refrigerators and wine racks. My local clients include Realtors for whom I provide housekeeping and management services.
Q – How do people find out about your services?
Elaine – I have come to realize that Stowe is a word of mouth town. People have found me through the Realtors in town and on GoStowe.com. I am a member of Stowe Area Association. I also have my own website www.stowemountainconcierge.com and can also be found on Facebook. Many local restaurants also have my brochures on display.
Q – I notice you also offer grocery shopping services?
Elaine – Yes. It is very popular with vacationers who want to take full advantage of spending their time at their leisure, as well as second home owners who are heading into town after a long week and really just want to unwind and leave the details to someone else.
Q –  What brought you to this career path?
Elaine – I was born and raised in England and moved to the States in the mid-1980's. My husband and I lived in Connecticut and Florida for a number of years and Stowe was our destination of choice for vacations. We eventually bought a house here. It was during my time as a concierge at Stowe Mountain Club, in 2009,  that I realized how much demand there was for concierge services in Stowe. I also learned a great deal about the clientèle and the kind of services they were looking for. I opened Stowe Mountain Concierge in 2010.
Q – What is your philosophy about service?
Elaine – I strive for the highest possible level of client satisfaction, provided in the most professional, honest and transparent way possible every single time.
As I prepared this Blog article, I could not help but picture Elaine as a sort of orchestra conductor and composer, all at once, one who understands the partition, the exact order of notes and the exact placement of instruments so that the music will be revealed with perfect ease and harmony.