What Makes Stowe Special for the Holidays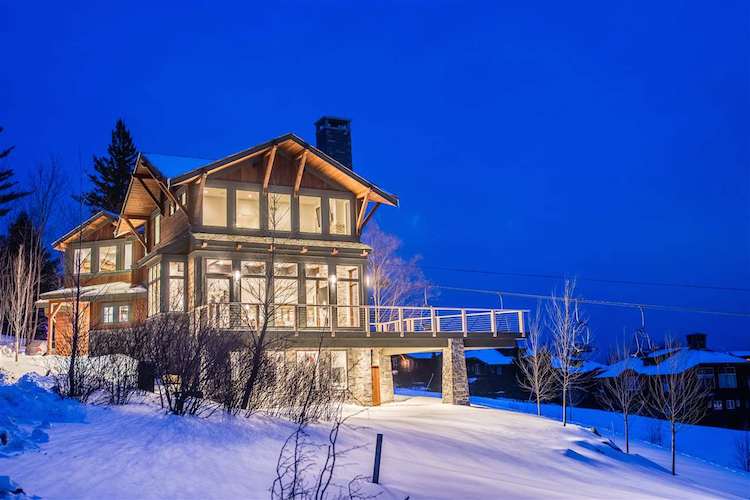 Located less than 40 miles east of the majestic Lake Champlain, you'll find a picturesque town perfect for your holiday retreat. Stowe rests among the snow capped mountains and evergreen forests of northern Vermont. Its idyllic location makes it one of the best destinations in the region for picturesque winter vacations, especially when it's time to celebrate!
Winter Wonderland
If you're dreaming of a white Christmas, Stowe won't leave you disappointed. The winter's snow glistens upon the rooftops of the charming village, and creates unbeatable conditions on the slopes. Skiers and snowboarders come from all over the country to get their fill of winter sport thrills. Mt. Mansfield, the most prominent peak in the area, now has 80% coverage from snowmaker guns, meaning that there is always fresh powder to glide over. Stowe also offers numerous trails for cross-country skiers and snowshoers.
If you'd rather have an engine power your snow-flurry of fun, there are also snowmobile tours available. You can choose to drive one yourself, or sit back while a professional guide takes the wheel.
Jingle Bells
There's no better way to get in the holiday spirit than by going on a traditional sleigh ride. Santa-style sleighs are pulled by giant draft horses through the woods and hills. This activity is great whether it's intended as a romantic ride for two, or a fun outing for the whole family.
If a team of horses isn't enough, you can also experience the excitement of age-old dog-sledding! Help professional mushers harness a pack of enthusiastic huskies, then hold on as they take you rushing through the trails. After you're done, you'll see why it's no surprise that so many of New England's dog-sledding champions can be found right here in Stowe.
Deck the Halls
Seeing the festivity and beauty of holiday lights is something that always warms the heart, especially when you're in Stowe. It's hard to imagine a town with more Christmas cheer when you look upon the twinkling lights that line the streets and glow upon the cozy homes of the locals. You can spend your evenings listening to carolers as you walk along the lanes and take in the sight of Stowe's shimmering displays. There's also the Children's Lantern Parade, as well as a tree lighting ceremony, both of which are dazzling to watch.
Other merry events include the Festival of Trees & Light, as well as the Alpine Christmas Market, which is great for finding unique holiday gifts from local artisans.
Season's Greetings
It is true that Stowe is a marvelous place for visiting during the holidays. But what if you could spend the whole season taking in its unforgettable sights and jolly atmosphere? You can, when you own Stowe real estate. Purchasing a vacation home in this lovely town is certain to be the best Christmas gift your family could wish for. To discuss buying real estate in Stowe, VT, or even Stowe rentals, contact the expert agents at Pall Spera today.
If you'd like to take the first steps toward buying a beautiful home of your own in "Northeast Kingdom" or any other of Vermont's beautiful destinations, contact us at PallSpera today. We'd be delighted to help you find the special home you deserve. Our specialty lies in finding properties that match every buyer's unique needs and preferences, ensuring that each one of our clients finds the perfect sweet home for them. With over 25 agents on board, our team is ready to begin your quest for the ideal abode.